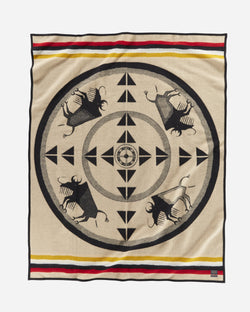 Buffalo Nation Blanket Buffalo Nation
This blanket from Pendleton is robe sized, which is the size preferred by Native Americans for ceremonial purposes. Made from pure virgin new wool and cotton, it features a distinctive Pendleton pattern and is perfect for cuddling up with on the sofa or as a statement wall hanging. This blanket features four buffalo gathered around a medicine wheel, with each pointing in the sacred Four Directions. The Lakota people depended on the Pte, the bison, for food, clothing and shelter. Pte were honoured as 'The Buffalo People' and artist Jim Yellowhawk uses an ancient style to illustrate Mitakuye Oyasin, a belief that all living creatures are family, and can live in harmony and peace.  
Pure Virgin Wool / Cotton Blend
Napped
Legendary Collection Label
Made in USA
Free standard shipping - Australia only
We offer free delivery on orders over $200 to any Australian address via the Australia Post Parcel service. Australia Post delivers to PO Box or street addresses, Monday-Friday, excluding public holidays. For more detailed information on the Parcel Post service visit the Australia Post website.
Express shipping - Australia only
Express deliveries will be shipped via the Australia Post Express Post service which guarantees next business day deliveries for major metropolitan areas. For detailed information on Express Post delivery times to your area please visit the Australia Post website. Saturday deliveries can now be requested so please add in your order notes if you wish to use this service.
 International shipping
International orders (NZ only) are shipped with DHL Express. Shipping rates do not include customs and duties charges which may be incurred on arrival at the destination country. Payment of any such charges is the responsibility of the purchaser. Import rules and duty rates on imported items are available from local import authorities in the destination country.
Tracking your item
An email containing a tracking number and tracking link will be sent to the email address supplied when your order is shipped. Tracking information is also accessible through the account page when logged in. Australia Post's Tracking page is here.
If you need to change or update your email address please contact us here.
When will my order ship?
Orders placed and paid before 2pm on business days will be sent same day.
Orders are sent Monday to Friday excluding Public Holidays. 
Pre-ordered items will ship upon arrival at our warehouse. We will endeavour to provide accurate information on expected delivery dates, but sometimes delays can occur.
Pendleton's Warranted To Be
We want you to be completely happy with every Pendleton product you purchase. "Warranted to be a Pendleton" is our quality credo pertaining to the product, the people and the personality that make our company unique. It's a vital part of our family legacy, as honored today as it has been since 1863.

With appreciation for your patronage,



John Bishop
President
The Pendleton Warranty of Product Quality



The Pendleton label is your assurance of the highest quality in fabric and construction. If you encounter a problem with a Pendleton product, we will happily repair it. If reparation is not possible then we we will endeavour to replace it. Failing a suitable replacement we will provide store credit to the value of the item purchased.
We will pay for return postage on faulty items purchased in Australia and New Zealand - so please contact us at hello@pendletonwoolenmills.com.au to initiate your inquiry.